"Follow the Water" – Our Professional Development for Miami-Dade County Public Schools' Teachers
Teaching water science has never been more essential for inspiring sustainable practices and a stronger water-conscious interest. Sharing a common goal of providing enriching and meaningful science education opportunities for young learners across our community, the Phillip and Patricia Frost Museum of Science and the Weo Foundation collaborated on a 16-month "Follow the Water" educational program for M-DCPS Title 1 School's teachers and students throughout Miami's most under-resourced districts. On September 3rd, our partnership culminated with a Professional Development session that hosted 30 educators teaching grades 3rd – 5th.
"Right now, in water science education, we focus on the water cycle, earth and space, how water on earth is critical and how it supports life", comments Analisa Duran, Assistant Director of Educational Programs at the Frost Science Museum. "The lessons that we put together with the Weo Foundation really support those standards in a very creative way!" Activities included mockups of both lessons, pedagogical frameworks of lessons, discussions on best practices in the classroom, a planetarium show and a conversation with Kirsten Siebach, a NASA geologist from the Mars Exploration division.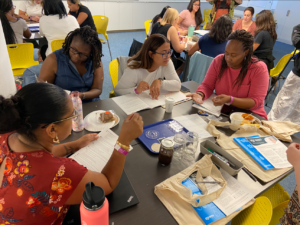 The lessons were developed to align with the Florida Next Generation Sunshine State Standards for grades 3rd – 5th. By embedding pedagogical techniques into the curriculum in addition to standard alignment, educators are taught how to facilitate the lessons in a way that supports conceptual learning, and documents student achievement through formative assessment practices. "The first activity is a water filtration engineering challenge for which we provide a kit, explains Jamie Hardcastle – Curriculum Development specialist at the Frost Science Museum. We want the students to figure out how to put these materials into different combinations, compare their results to see which works best for water filtration. This gives them a sense of what is needed in areas with no access to clean water".
Janie Garcia teaches 3rd graders at Citrus Grove Elementary. After she attended the session and implemented the courses in class, she reported: " The lab was very successful. It was evident that students had made a meaningful connection and understood the importance of water as they orally discussed their findings with the class. They now have an idea as to the vital importance water plays on our planet".
With the upcoming Nasa Lunar Mission, it seemed only natural to include an earth and space focus in our program. For this second activity, we offer a lunar modeling activity using white Play-do for lunar crust and blue Play-do for water. By simulating a drill into the lunar crust, teachers and their students can check water presence and map it on a worksheet. "My students were able to successfully complete a scientific investigation, properly map their results and analyze them the way scientists do!", Janie Garcia explains. "It became almost competitive to see who could find water! This was a very fun and engaging hands-on activity", adds Christina Walker, Science Educator for various grades at the Biscayne Nature Center. Elena Alfonso who teaches special education students at Citrus Grove Elementary, also comments: "On a personal level, I gained knowledge and a hands-on experience which was unlike any other. As a teacher, I was able to view this experience as an opportunity to engage students with exceptionalities in an educational lesson that went far beyond a video."
All educators who attended the workshop received the curriculum and all materials needed to facilitate the lessons for 30 students. The KWL assessment ("what I know, what I want to know, what I learned"), that was included in both lessons, helps teachers conduct evaluation of and for learning. "That gives students the chance to engineer, be creative, partake in project-based & inquiry-based learning and to really construct the knowledge on their own", observes Analisa Duran.
"Those labs absolutely make a difference! Students better understand and connect with a scientific concept, they actually take ownership of it, and they can use it in their everyday life"!, concludes Crystalyn Williams, Math and Science teacher at Orchard Villa Elementary. By enriching our STE(A)M curriculum with water science, the Weo Foundation aims to keep instilling awareness toward our most valuable resource and empower positive change through equitable access.